Salem Rotary Family Sports Center at Waterworth Memorial Park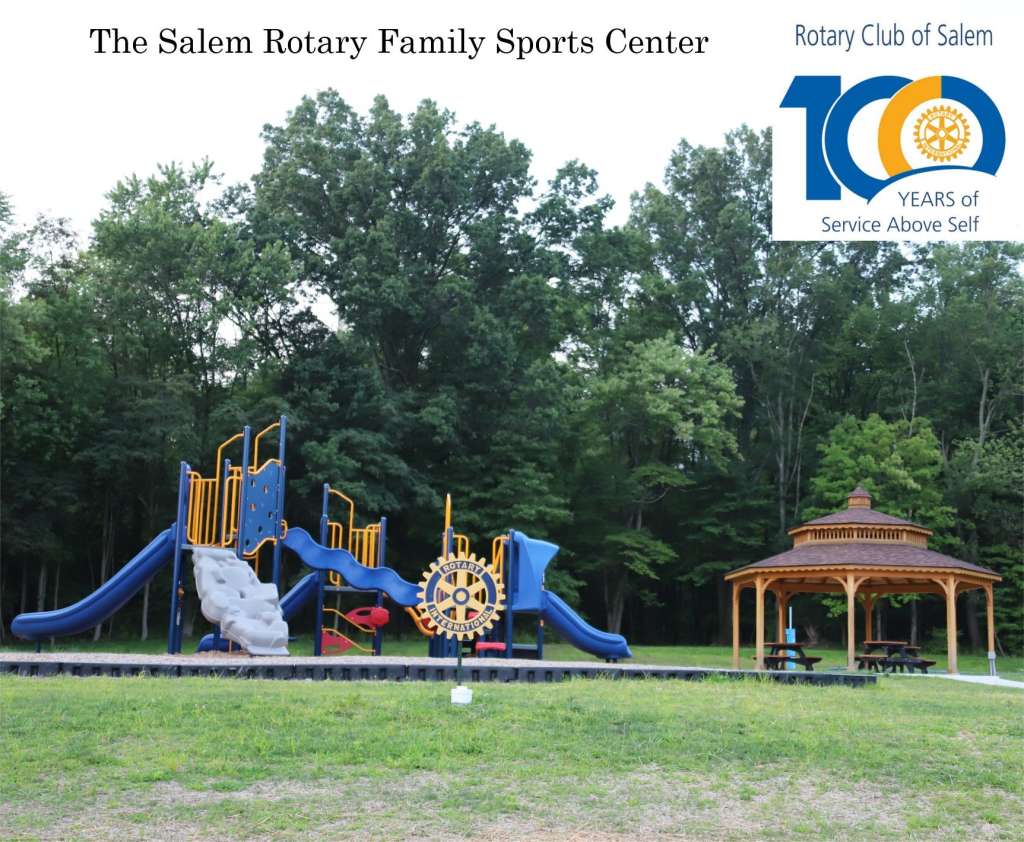 We are proud to have dedicated the new Salem Rotary Family Sports Center on September 5, 2024.

The new Sports Center includes a central gazebo-style pavilion, a large children's playground, a practice soccer field, sand and grass volleyball courts, a cross-fit area, two batting cages, two golf cages, spacious grass areas, and handicap accessibility.

The new mini park is a multigenerational, multifunctional family gathering place to socialize, practice sporting skills, and stay fit.

The Rotary Club of Salem is grateful for our Rotarians and the community members who have given generously to make this possible.

The Rotary Club of Salem

Read More
View the Construction
Rotary Club of Salem - Join Us - We Meet Tuesdays at Noon at the Salem Community Center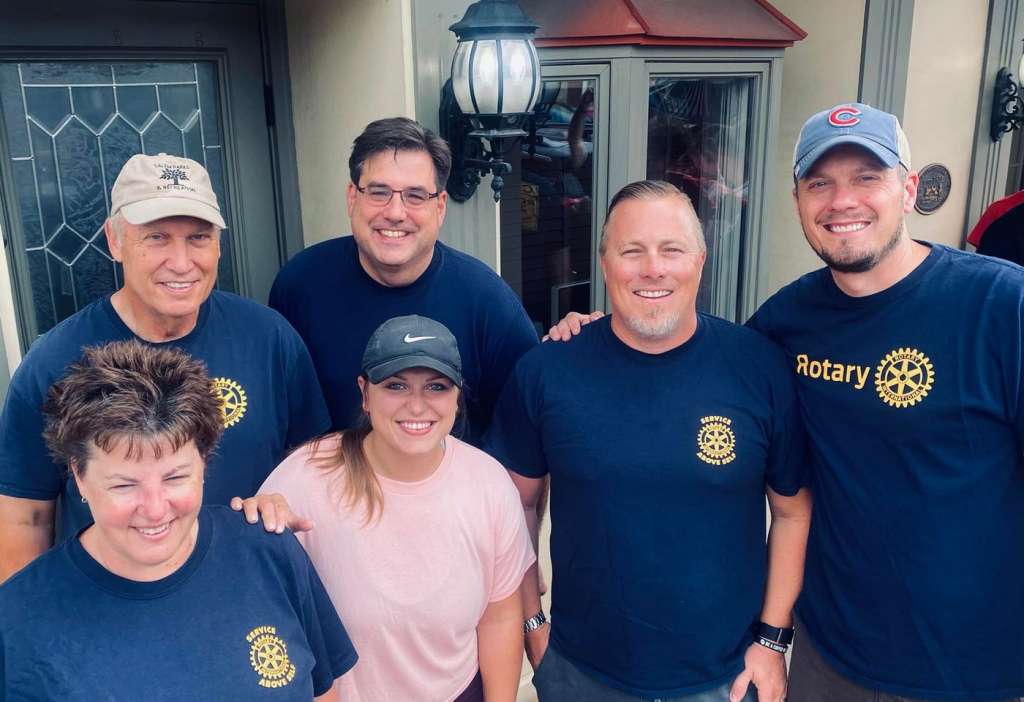 The Rotary Club of Salem meeting every Tuesday at noon at the Salem Community Center in the Rotary Room.

We have over 80 club members of all ages and diverse backgrounds and careers. We provide strong community and international support with a collegial atmosphere. You can read more below.

Want to join? Please email us at This email address is being protected from spambots. You need JavaScript enabled to view it. or speak to a Rotarian. We would love to have you attend a meeting and become part of our organization and join 1.2 million Rotarians worldwide.

Rotary Club of Salem
P.O. Box 1025
Salem, OH 44460
234-564-2626
Read More
Rotary Club of Salem - United States Flag Project
For more than 10 years, the Rotary Club of Salem has been placing hundreds of United States flags at homes and businesses throughout the community during Memorial Day, Flag Day, Independence Day, Labor Day, Patriot Day, and Veterans Day.

Our club members oversee placement of the flags during two periods from Memorial Day through Independence Day and Labor Day through Veterans Day.

Fall Special $20 for Labor Day through Veterans Day.

Proceeds go to the Rotary sponsored projects in the Salem area.

If you would like to purchase an Annual Flag Placement for 2023, you may do so online. If you have questions or concerns, please contact us below.
Purchase Annual Flag Placement Online
Contact Us
2023 Salem Rotary Club - Community Service Above Self Award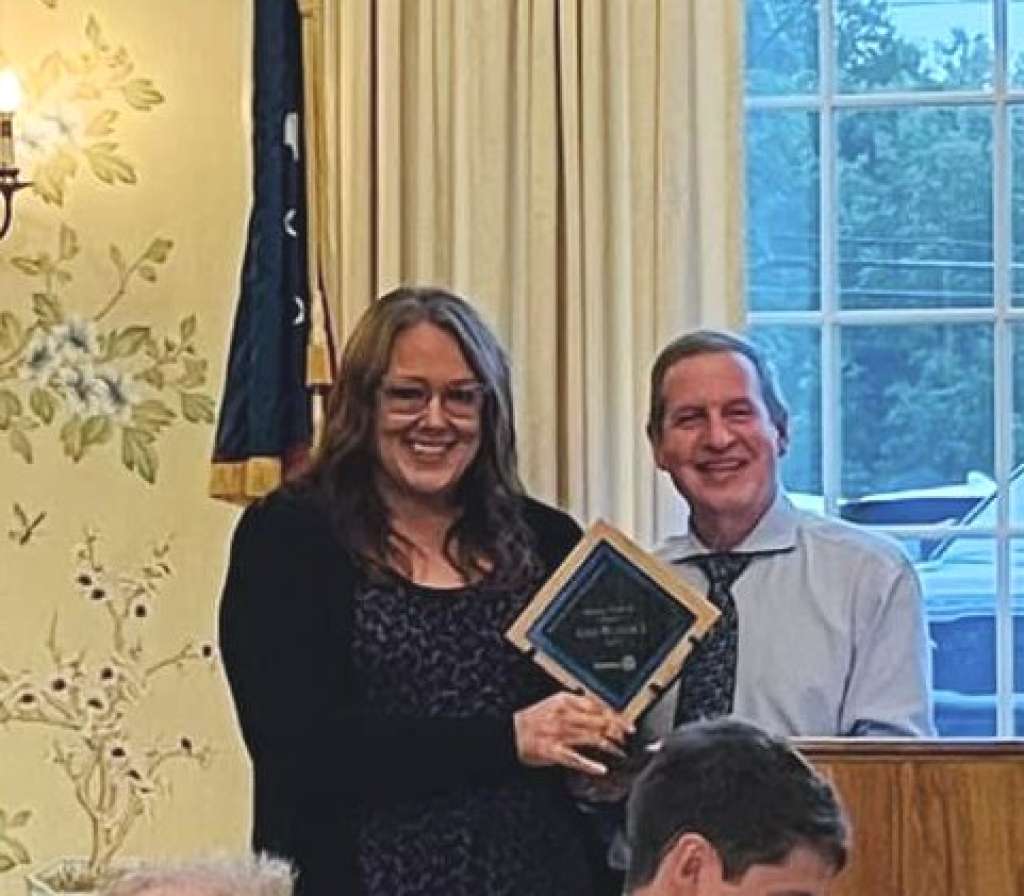 Salem Rotary Community Service-Above-Self Award is designed to recognize a community member who puts Service Above Self, which is one of the most important mottos of Rotary.

This person follows the Rotary Moto of Service Above Self by using their time, treasure, and talents to help others in our community.

Lisa Wallace Vittorio is the co-Director of the Brightside Project. She is a graduate of Salem High School and for the past 15 years, Lisa has been serving the families and children of our county.

The Brightside Project's mission is to equip and empower children in Columbiana County which they do by providing food for children; an imagination library and new storybook trail in the park through a Dolly Parton grant; back to school clothes, coats, shoes, and backpacks; crisis relief services; gifts at Christmas and Easter for qualified children, and much, much more. The Brightside Project recently acquired the Sunshine Bus to allows them to travel directly to children in need.

Our Community Service-Above-Self Award recipient will receive $500 gift to be designate to her favorite charity.

Congratulations to Lisa and past recipients of this prestigious award: 1999-Rev. Wilkins, 2000-Don Weingart, 2001-JeanAlice Fehr, 2002-Sister Dorothy Hurray, 2003-Salvatore C. Apicella, 2004-John Buta, 2005-Mark Siegal, 2006-Debbie Pietrzak, 2007-Peter Cibula, 2008-Robert Wright, 2009-Wavelene Arnold, 2010-Karen Buchmann, 2011-Jackie Berthold, 2012-Patty Bauman, 2013-Karen Carter, 2014-Todd Olson, 2015-George Spack, 2016-Gene Johnson, 2017-Roger Hack, 2018-J.T. Panezott, 2019- Dennis Niederhiser, 2020-Brad Davis, 2021-Kevin Clark, and 2023 Debbie McCulloch.
Salem Rotary Awards 2023 Golden Apple
The 2023 Golden Apple Award was presented to Mary Beth Shivers, a teacher at Southeast Elementary School. Mary Beth is a native of Salem with 35 years of teaching experience.

"Ms. Shivers is one of the most kind human beings you will ever meet and she has performed for 35 years in the Salem City Schools offering kindness, caring, and understanding to her students."

The Salem Rotary Foundation provided a financial award to Mary Beth and $500 to upgrade her classroom.
Nominate a Salem City School District Teacher
Rotary Interact Club Hosts Senior Prom
For many years, Salem Rotary Interact Club has hosted a Senior Prom for the elderly members of our community.

This year's post-COVID event included food, prizes, and a dance.

Interested Salem Junior and Senior High School 7-12th grade students can speak with their counselors to join the community-focused youth-arm of the Salem Rotary Club.
Click HERE to read more in the Salem News
Salem Rotary - Annual Third Grade Dictionary Project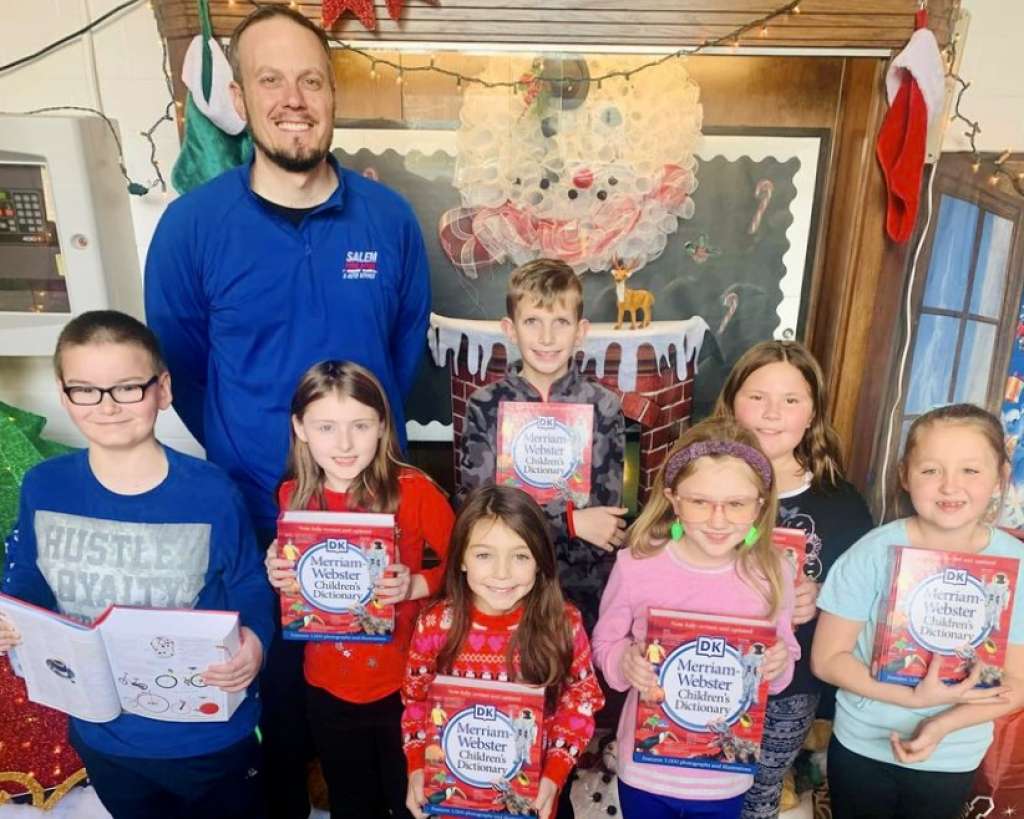 For more than 20 years, the Rotary Club of Salem has been providing Merriam-Webster Elementary Dictionaries to every third-grade student in the Salem School District including St Paul School.

The hard-bound, keep-sake dictionaries have colorful illustrations, photographs, and diagrams which are designed for children ages 8-11.

We distribute more than 325 dictionaries each year. For some students this is the only book that they personally own. Many of our alumni still have their prized dictionary on their shelves.
Rotary Club of Salem and Salem Rotary Foundation Donate $1000 to Our Sister Club in East Palestine Following Train Disaster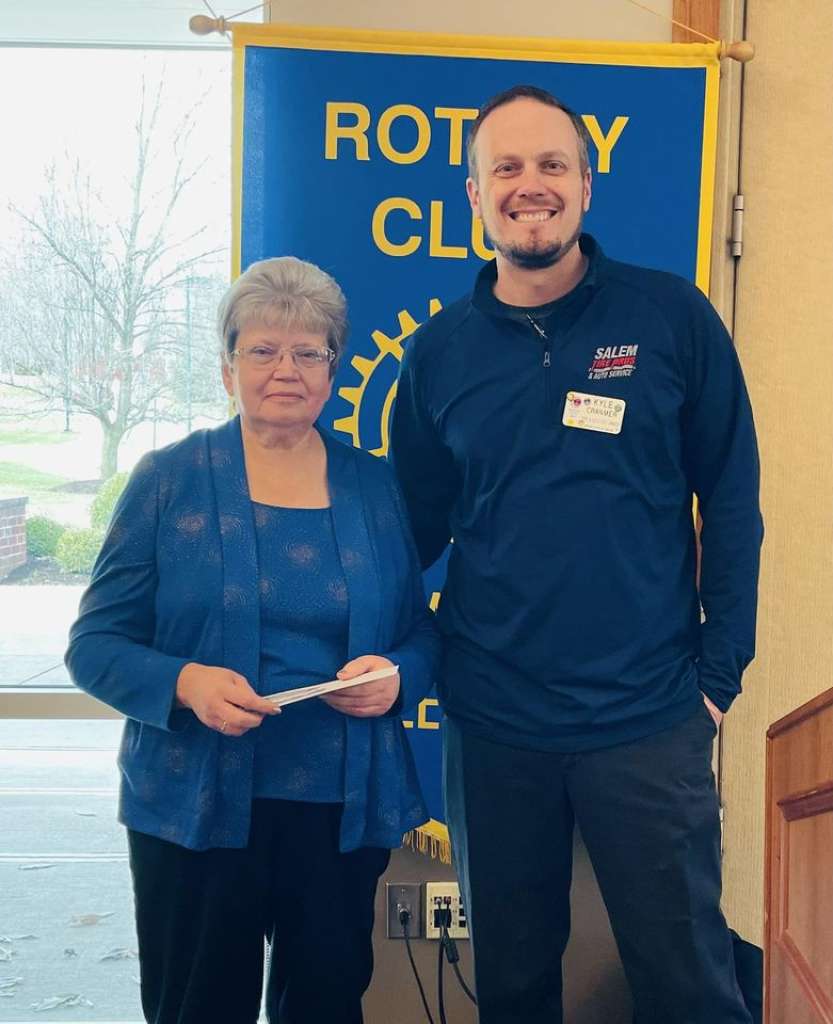 The Rotary Club of Salem along with the Salem Rotary Foundation gifted our sister Club, Rotary Club of East Palestine, a donation in the amount of $1,000 to provide assistance to those in need following the recent railroad disaster in East Palestine, Ohio.


Salem Rotary Family Sports Center at Waterworth Memorial Park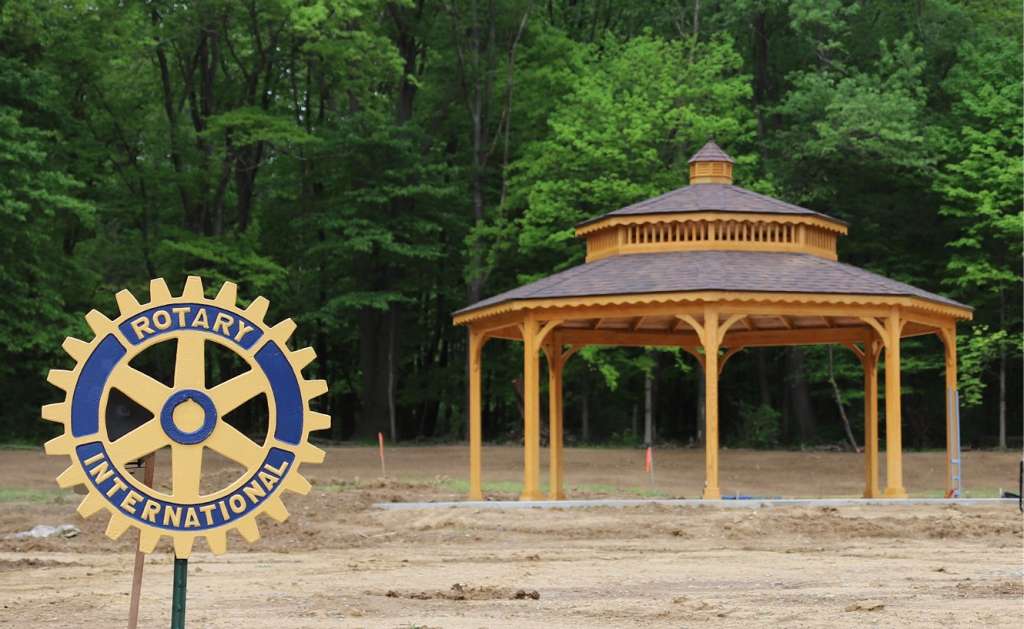 As our Centennial gift to the community, the Rotary Club of Salem is proud to create the Salem Rotary Family Sports Center located in Waterworth Memorial Park behind the Salem Community Center.

When complete, the mini-park will include a central gazebo-style pavilion with surrounding benches, practice soccer field, sand and grass volleyball courts, a cross-fit area, two batting cages, two golf practice cages, a large children's playground area, and grass areas.

We have raised more than $250,000 for this family friendly park for all ages which is currently under construction with an expected completion date of summer 2023.

Read More
Salem Rotary Foundation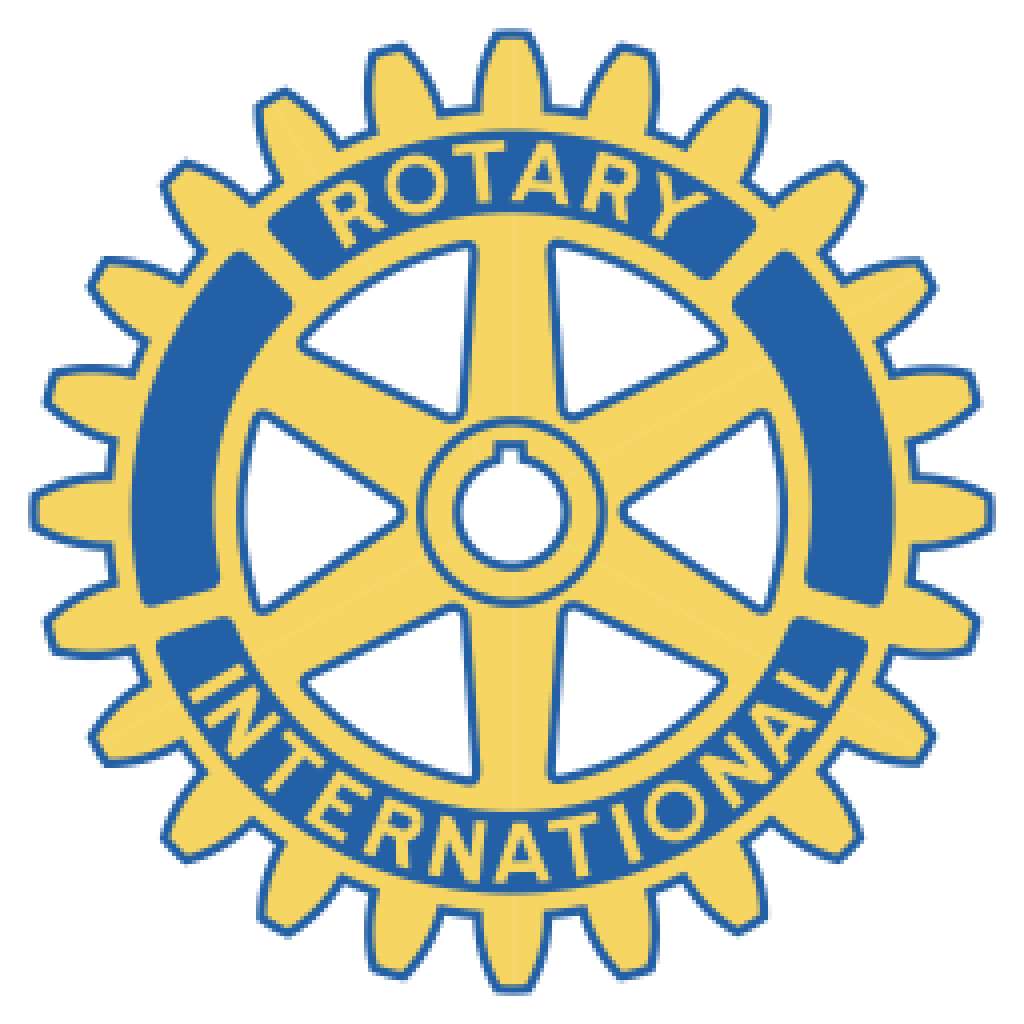 The Salem Rotary Foundation was founded in 1995 as a tax-exempt organization in Ohio designed to promote and foster the ideals of Rotary International and to provide charitable gifts to those who practice the ideals of the Rotary 4-Way Test.

Past Foundation support includes Pay It Forward ($50 to needy at Christmas), Salem Chamber of Commerce, United Way, RYLA students, Salem Community Pantry, Rotaract scholarships, Salem Regional Medical Center, Salem Public Library, Salem Police K-9, Salem City Parks, Salem Senior Prom, Mobile Meals, Salem City Schools, Polio Plus, and other projects.

Would you like to find out more, donate, or request funds?

email This email address is being protected from spambots. You need JavaScript enabled to view it. or write

Salem Rotary Foundation
P.O. Box 1044
Salem, Ohio 44460
Read More
Rotary Club of Salem - Centennial Dinner - November 2021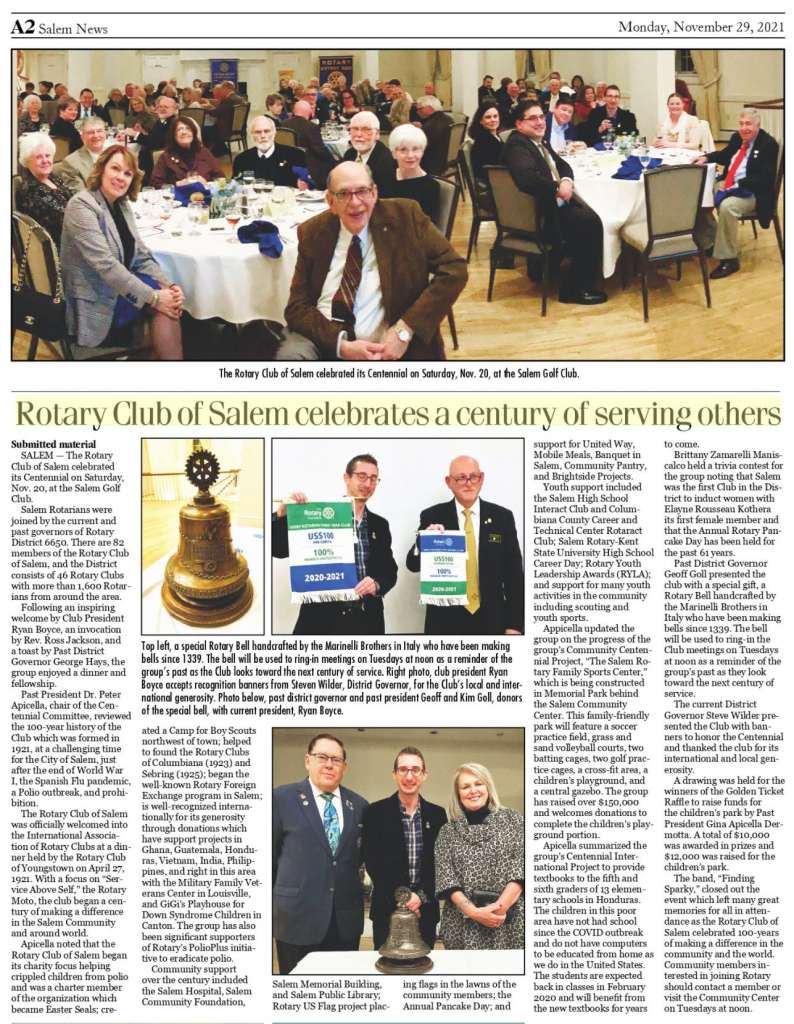 The Rotary Club of Salem celebrated our Centennial on Saturday, November 20, 2021, at the Salem Golf Club. There are currently 82 members of the Rotary Club of Salem.
Read More
View Our Centennial Presentation